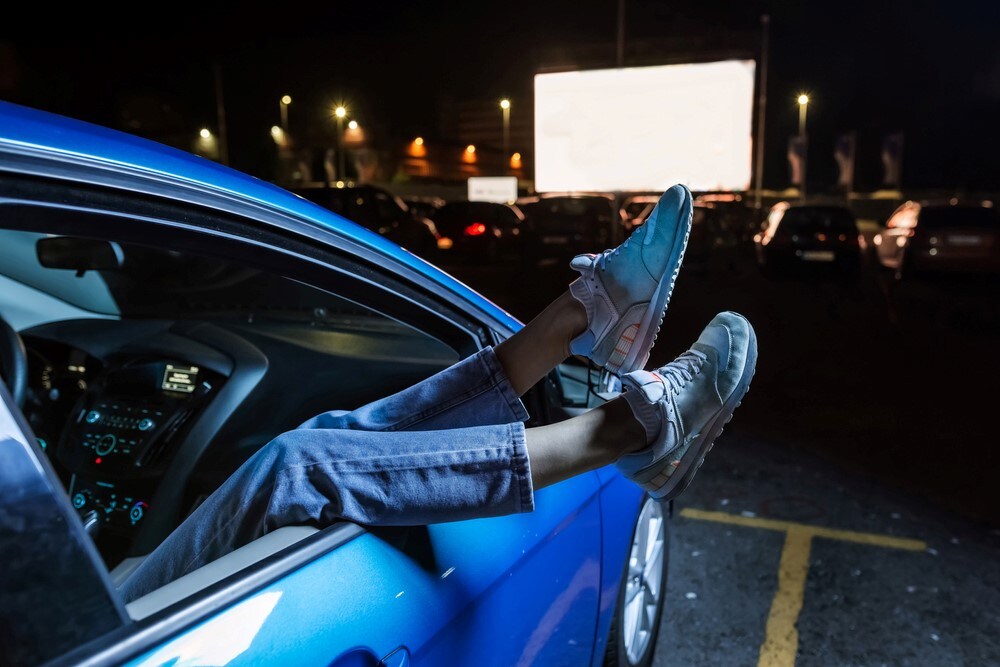 In its heyday, during the 1950s, the drive-in was a weekend hotspot for every Jack and Sally. (You could get a hot dog and sodie-pop for about a dime!) By the 1980s, with suburban sprawls sprawling and the emergence of big cineplexes, the then-traditional drive-in movie theater began going the way of the buffalo. Today, America has just over 300 drive-in theater locations, down from 4,000.
Then came the dreaded 2020s, which brought us terms like "social distancing," "lockdown" and "quarantine." And just like that, those big cineplexes were shuttered, opening a curtain for the drive-in to make its long-awaited resurgence. Who knew that all it would take to revive and re-popularize the drive-in theater was a global pandemic?
Even now, as the country emerges from the pandemic, there remain a few new traditions that may very well stick – including going to a drive-in movie. It's a cheap family activity that takes up an entire night, and if there's one lesson to learn from our recent ordeal, it's to value family time.
Whether you're embarking on your first trip to a drive-in near you (like the Grand River Drive-In in Leeds) or you consider yourself a veteran of the outdoor screen, we're sure you'll learn a lesson or 20 from this guide. Check out our drive-in movie theater tips, tricks and ideas below to make the most out of your flick-tastic adventure.
What To Do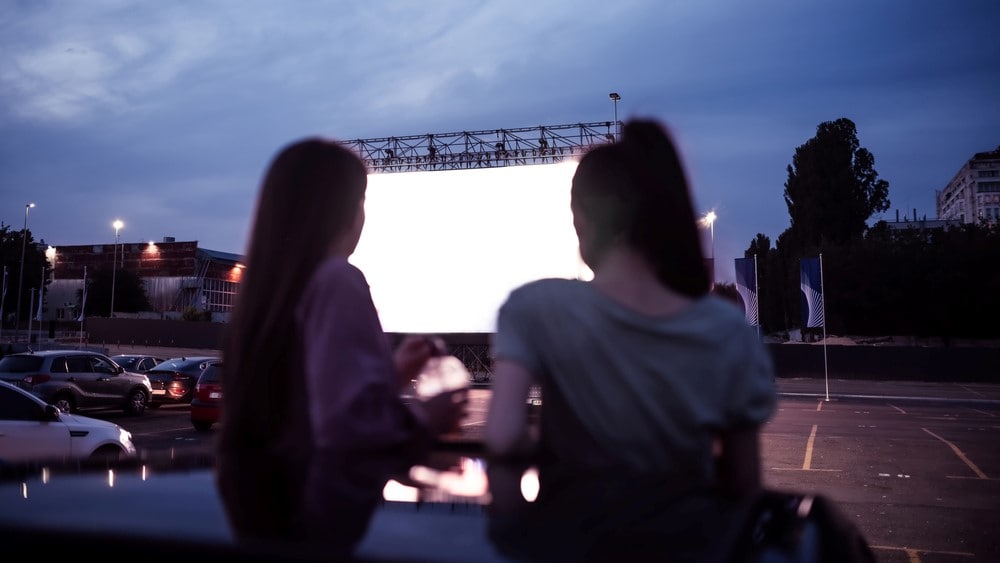 Arrive At Least 1 Hour Early
Even if you're going to see a new film with a 26% Rotten Tomatoes rating, expect long wait times to get into your local drive-in this summer. It's a good idea to arrive at least an hour before showtime to secure a good viewing spot, preferably close to the exits (it can be a nightmare to leave a drive-in).
Leave Your Dog at Home
Unless there's a special pet-friendly event taking place, your fellow drive-in theatergoers likely won't appreciate yapping or barking dogs. Dogs may be difficult to control, especially around other pups, and can be a major distraction to others.
Wash Your Car
Grimy windows can ruin a drive-in movie. Spend the afternoon hand-washing your vehicle. Disposable glass cleaner wipes. Window cleaner (Windex®) and paper towels. Newspaper. Whichever option you go with, definitely wash your windshield before the opening credits roll.
You can also bring your vehicle to a carwash for a decent albeit less thorough exterior clean.
Cover Dashboard Lights
A cloth, some cardboard, or even a book can be used to block the lights from your dashboard and gauges. These lights, especially those that blink repeatedly, can be extremely distracting.
Plan for a Late Night
Drive-in theaters with double features will close well after midnight, oftentimes into the wee hours of the morning. If you have somewhere to be in the A.M., consider another night to go to the drive-in.
Set Up Your Vehicle in Advance
Don't head to the drive-in without first getting your vehicle in order. Clean it up, have a garbage bag ready, and clear space to pop seats down. You don't want to be fidgeting with everything as the movie starts.
What To Bring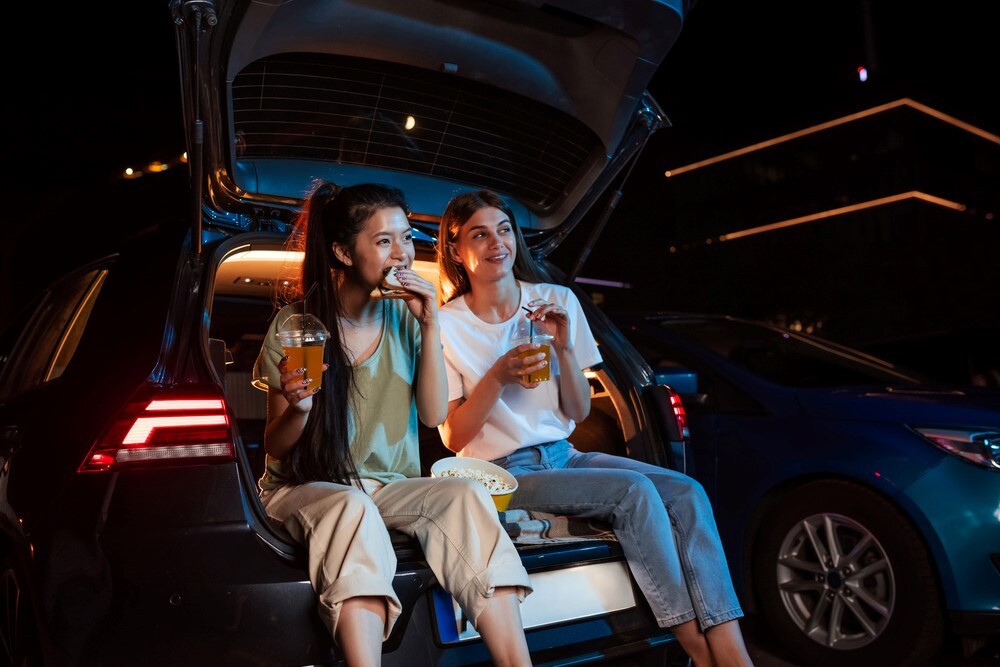 "Stuff" for Eating
Bring disposable paper plates, napkins, cups and utensils.
Wet Wipes
Add wet wipes to your pack of paper plates, napkins, and disposable cups. Kids can simply use these to clean up their sticky, greasy fingers.
Portable Radio
Most drive-in theaters enable guests to tune into a specific FM radio station for film audio. You can turn your vehicle off and use its radio, though we recommend a portable, battery-powered radio to listen to the movie.
Of course, if your vehicle is equipped with a premium audio system, you may want to opt out of the portable radio entirely. For instance, if you own a new Hyundai Santa Fe Limited, your drive-in experience will be enhanced 12-fold thanks to its standard Harman Kardon 12-speaker audio system with Clari-Fi and QuantumLogic Surround Sound. Plus, it's the year's Best Buy SUV, so you'll get more than just wicked-good sound.
Jumper Cables
Should you forget the radio (or it runs out of batteries, mid-movie) and opt to use your car's radio, be sure to have some jumper cables in the back. If your car battery dies, these will be pretty handy. Drive-in attendants may be available to help you jump-start your vehicle, too.
Bug Deterrent
Mosquitoes can turn the most picturesque evening into a horrific nightmare. Keep the horror on the big screen by applying bug spray liberally, activating your
Thermacell repellant
, or installing vehicle window screens like the
Skeeter Beater™
.
Sunscreen
Most movies will begin as the sun sets. However, since you're arriving early, you'll still need to keep the UV away until it gets dark. A squirt of SPF 50 keeps the doctor away.
Snacks
A night at the movies isn't complete without soda and popcorn. Bring a cooler for drinks, a freshly popped bag of popcorn, and other goodies that you can munch on during the movie.
Although most establishments allow you to bring your own food, please check with your local drive-in theater for rules regarding outside snacks and drinks.
Dinner
To avoid the oftentimes expensive concession-stand hot dogs – they're not a dime anymore! – consider bringing dinner with you. Make sandwiches or grab a carryout pizza for the entire family. (Don't forget the plates and napkins.)
Again, check with your theater for rules.
Garbage Bags
A simple plastic grocery bag in the front seat should be enough to store all your used paper plates, utensils, napkins and wrappers.
Jammies
No one's checking if you're wearing your best pleated khakis or cutest sundress. Feel free to dress down for the occasion by donning your comfiest pajamas and bringing a blanket.
Seating
Feel like watching the movie with family outside your car? Bring foldable camping chairs, air loungers or a picnic blanket. You can also reverse into a parking spot, clear out the back of your
Santa Cruz
, and stuff it with a couple beanbags.
Or simply stay in the front seat for a traditional drive-in experience.
A Fan
Try to avoid burning fossil fuels by running your air conditioning. Bring a portable fan with you, instead.
Tablet and Headphones
Double-feature showings will usually start with a kid-friendly movie and conclude with a film more suited for adults. A tablet, cell phone, or portable gaming device, paired with headphones or earbuds, will keep children occupied if they're not old enough to watch the second movie.
Games or Toys
While you wait for the movie to start, have something in the car to pass the time. Try Mad Libs, Uno or Scrabble – just don't lose the pieces!
The Right Vehicle
The best vehicle for a drive-in is one in which you're comfortable – whatever that means to you. We recommend versatile vehicles with extra space and convenience, like the aforementioned Hyundai Santa Cruz, which was built right here in Alabama!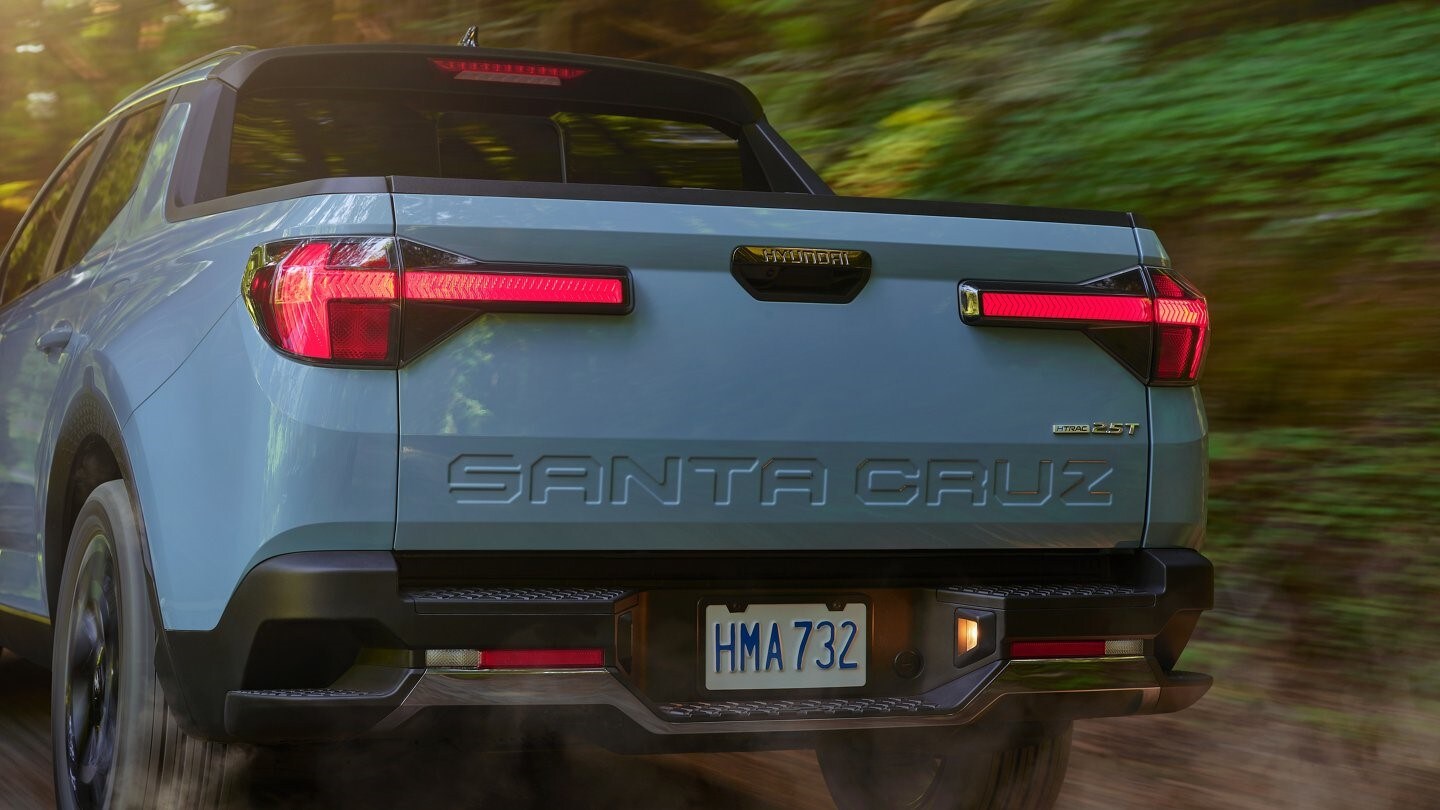 Why is the Santa Cruz a good vehicle for a drive-in movie outing? Let us count the ways...
1. Open Bed
The multi-functional rear bed is a cargo- and people-carrying machine. You'll have enough room for a couple people to spread out and watch the movie, if that's how you roll.
2. Built-In Cooler
An underfloor storage compartment in the Santa Cruz is great for small items, but it can also be converted into a makeshift cooler thanks to its drain plug.
3. 115V Outlet
From your seat in or near the bed, you can plug in your devices, including tablets, phones and radios, all without going in and out of the truck.
The new 2022 Hyundai Santa Cruz also comes with America's Best Warranty – a 10-year/100,000-mile limited warranty. (It's not necessarily a "drive-in theater perk," but it is a perk nonetheless.) Click here to find a Hyundai Santa Cruz for sale near you in Birmingham.
Rules Of Etiquette
You know how, in "normal" movie theaters, some people can get on your nerves? Talking. Using their cell phone. Blocking the screen by wearing 14 hats, one on top of the other. Well, the drive-in theater will present a few pet peeves exclusive to the outdoor setting. Avoid ruining someone's evening by following these unwritten (or sometimes written) rules of etiquette.
Turn off your headlights, interior lights, and any other lights that could ruin the view.
Turn your car off. (It's loud!)
Keep your foot off the brake (no taillights).
Don't litter.
Keep noise at a respectable level.
Only tune in to radio stations for film audio.
Don't let kids and pets roam free during the movie.
Clean up after your dog, if you bring them.
Big vehicles should park in the back rows.
Don't smoke around people.
Only one parking spot per vehicle.
Please, no fireworks or sparklers.
No reserving spots. (If you're having a group outing, travel together.)
Buy concessions, as this is how drive-in theaters are able to stay in business!
Drive slowly and carefully. (Forward Collision-Avoidance with Pedestrian Detection isn't a cure-all!)
That may seem like a lot, but most of these drive-in theater rules are common sense and common courtesy. People are people, too!
As you get ready for movie season, allow us to remind you that our Birmingham Hyundai dealership is here, dishing out finance and lease deals on some of America's best vehicles, including the Santa Fe and Santa Cruz. Stop by our location at 1424 5th Ave N to browse our selection and get an accurate trade-in value for your current vehicle. You can also contact the Jim Burke Hyundai team at (205) 502-2792 to request a quote or schedule a test drive.
That's a wrap, folks.