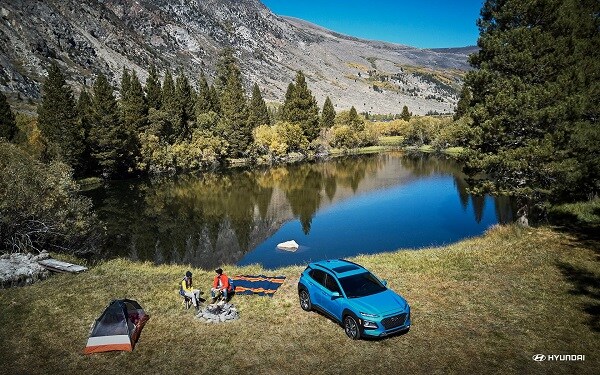 It ain't an Alabama summer without an intense weekend sleeping in tents. But before you go loading up your new Santa Fe with all the camp gear, read through our camping tips and tricks. You'll save time and cut back on the hassle—we promise!
9.) Have the Right Camping Accessories
Heading to General Lee Campground in Cropwell? Don't drive a single millimeter before running through every item on your camping checklist—that's a given. In addition to the obvious must-bring items, such as a tent and sleeping bag, you'll also want to have the right car accessories for camping. You think expert campers forget their cargo nets, roof crossbars, and plastic cargo trays? Not a chance.
If you need a specific Hyundai accessory for camping in Birmingham, head over to Jim Burke Hyundai. We can order and install your SUV accessories in time for your next summer camp-out.
8.) Cold Feet, Meet Hot Water Bottle
Even with the Alabama humidity, nighttime temperatures can leave you with icy toes. Fill a bottle with hot water, and stuff that into the base of your sleeping bag. It'll stay warm until the wee hours of the morning.
7.) Premade Scrambled Eggs
Breakfast is an essential part of camping, but preparing the most important meal of the day isn't always easy when you're living out of a tent. Instead of trying to power through the morning, cracking egg upon egg on the skillet, make them at home! Combine eggs, salt, pepper, and cheese before packing the cooler, and store the mixture in a squeezable bottle. When the sun comes up, you'll be ready to get your scramble on.
Get these simple breakfast instructions at lifehacker.com.
6.) Baking Soda is a Cure-All
If you're new to camping, you may have no idea how useful baking soda can be at a campsite. You can use bicarb to:
Clean dirty dishes and cast-iron pans
Refresh up a wet tent or damp shoes
Wash your hands
Scrub campfire grates
Put out small fires
Soothe stings from bees, wasps, hornets, and yellow jackets
Alleviate sunburn pain
Brush your teeth
Deodorize stinky armpits
Wash up spills inside your car
What can't baking soda do?
5.) Befriend Your Kid's Foam Floor Tiles
Your child may have outgrown her foam play tiles—you know, these things—but they still have their uses at the campground. Piece the foam pads together and lay them down inside your tent to keep hip and back pain from ruining your night.
4.) Don't Forget the Pencil Sharpener
"A pencil sharpener?" Yes, these little childhood gadgets belong on your family's camping checklist. Rather than making a s'mores stick for each kid, let them create their own with pencil sharpeners. Easy-peasy.
3.) Simple Handwashing Station
Even with a large truck or SUV like the Hyundai Santa Fe, hauling a working sink to your campsite isn't really practical. However, a DIY camping sink is incredibly simple to pack into your SUV and bring along for the weekend. Best of all, building a handmade washing station costs the same as breathing air: Nothing!
Read the instructions right here.
2.) Pack Dryer Lint
A compact ball of dryer lint is the best campfire kindling. Not only does lint ignite quickly, it also helps keep mosquitos from infiltrating your campsite. There's just something about the burning smell of chemical detergent and human hair that really deters bloodsuckers from sinking their disgusting fang-vacuum-thingy into you.
1.) Have the Right Camping Vehicle
You can't take a weekend trip to a Birmingham campsite without first having a good camping vehicle. As you prepare to camp out, make sure you've got enough space to bring everything along. (No, a dinky trunk simply won't do, no matter how good at Tetris you are.)
---
Visit your local Birmingham Hyundai dealer to test drive a new SUV like the first-ever Hyundai Kona or Santa Fe Sport, and you'll be ready to go come Friday evening. Contact us at (205) 588-6283 or step into our Birmingham Hyundai dealership at 1424 5th Ave N this summer, and you're guaranteed to get a great deal on a new Hyundai or used SUV.
Sources & Photos:
http://www.generalleecampground.com/
https://doitandhow.com/2013/04/23/hand-washing-station/
https://lifehacker.com/store-pre-scrambled-eggs-in-a-bottle-for-no-mess-campi-1602965155
http://www.cozi.com/blog/family-camping-checklist-and-a-few-great-tips/
http://www.survivalbased.com/survival-blog/3114/baking-soda-campingsurvival-uses/
https://www.hyundaiusa.com/kona/gallery.aspx